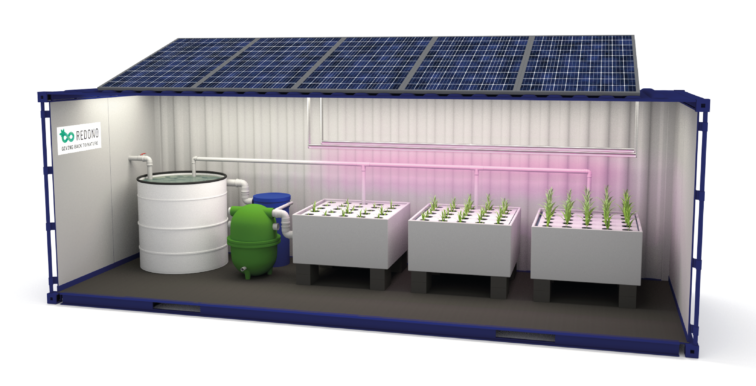 BioHydro
The REDONO BioHydro unit consists of a high-tech hydroponic grow farm. The produced BioFeed-fertilizers can be recycled to our automated and controlled hydroponic system for an effective and fast plant growth. The BioHydro unit contains water recycling system for the hydroponic growbeds, with solid removal and biofiltration. The growbeds are installed with high-tech LED growlights, for an effective biological photosynthesis, which helps the plants nutrient uptake from the waters. The unit can also utilize solar energy, for the it's required power consumption. We have designed our hydroponic system for growing plants such as hops, strawberries, gynostemma pentaphyllum, ashwagandha or other plants that contains high nutritional and medicinal benefits.
Please contact for any additional information and for any queries regarding the BioHydro-unit. and it's benefits and possible uses. The BioHydro unit can also work as your stand-alone hydroponic farm. Let us design your hydroponic unit, where we can grow the plants you wish to grow, in a fully automated and controlled environment, in a sustainable way.
Technical specifications:
Recycling BioFeeds for plant cultivation 1 m³/day.
Solid removal and bio-filtration.
3 pcs of growbeds, for 75 plants.
Module size: 20' sea container (length 6 m).
Fully automated and controllable system.
Controlled environment for a year-round plant cultivation.