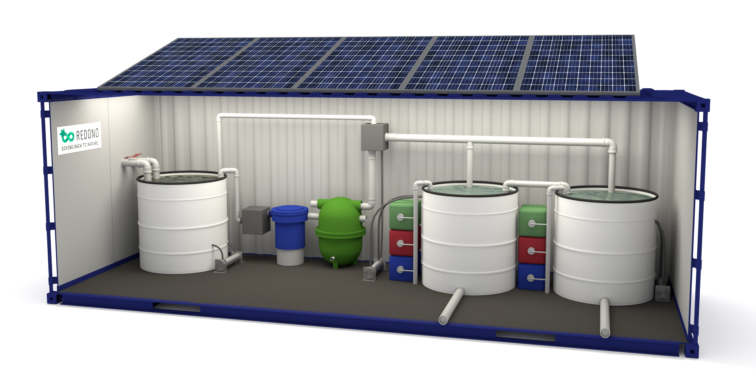 BioFeed
Industrial sidestreams can be pretreated in the BioFeed unit to produce organic liquid fertilizers (BioFeed). The purpose of the BioFeed unit is to remove the containing solids and eliminate any unwanted bacteria or other organisms and impurities from the industrial sidestreams. The processed waters are produced into an excellent BioFeed-fertilizer for the BioAlgae and BioPlant units. BioFeed-fertilizers are considered as quality fertilizers for microalgae and plant cultivation, containing the necessary nitrogen and phosphorus, incl. other macro- and micronutrients.
During the pretreatment process, the industrial sidestreams are being monitored and controlled to guarantee a continues nutrient recycling process in the REDONO process.
Please contact for any additional information and queries regarding the BioFeed-unit and treatment of your industrial sidestreams.
Technical Specifications:
Pretreatment of industrial sidestreams, capacity 500 l/h.
Production of liquid fertilizers (BioFeed).
Module size: 20' sea container (length 6 m).
Fully automated and controllable system.
Powered by solar energy.
Suitable for industries such as breweries, biogas plants and aquaculture.